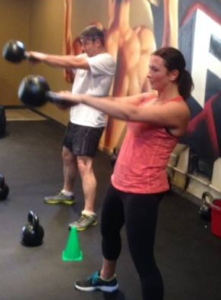 Last week, we kicked off our 14 Day Spring Sprint program.
We had a few people go through the same "14 Day Rapid Shred" protocol we are using for the program in an internal testing group in the first weeks of 2019.
Here is an example of the results you might expect if you follow the plan we lay out – and hold you accountable to! – in the program:
"The 14th day of the 14 day shred. Pretty Happy l lost 7#'s and lowered my body weight fat by 2 points. Need to keep it up and stay with the program."
– JM
#
7 pounds in 2 weeks is awesome!!
Also – realistic and sustainable, which is what it's all about.
Now here's the deal: Spring is right around the corner.
It's almost time to start breaking out those summer clothes.
Are you ready?
Or do you still need to put in a little more work?
Never fear, FVT is here with our 14 Day "Spring Sprint" Program.
We give you:
– The meal plan
– The workout plan
– The lifestyle and recovery plan
– The extra accountability
EVERYTHING you need to succeed.
Current clients can participate at no cost. New / returning clients can join for $99. HOWEVER – there are a couple of requirements you must meet, if you want to get invovled with this program:
1 – You must make the commitment to actually DO the protocol to the best of your ability.
Because if we're going to share this with you, we want you to get results! And you have to be willing to actually put in the work if that's going to happen ????
2 – You will need to commit to logging everything you eat and drink (we'll show you a SUPER easy way to do that, btw) for the 14 days.
We give you a complete outline of what to eat and when to eat it – along with sample meal plans to follow – so that everything is laid out for you.
3 – You will need to commit to five times per week of workouts, for about 45 minutes each, for the 14 days. Three of these will be "HIPT" workouts at the FVT studio, and two will be basic walk / jog / run workouts you can do anywhere.
4 – You will need to commit to taking care of your body during the Challenge. This means getting plenty of sleep, possibly reducing your caffeine intake, possibly reducing your alcohol intake, etc.
5 – You will need to be friendly and coach-able.
This might be the most important requirement of all.
If we are going to be able to help you in the best way possible, you need to be positive and open to our suggestions.
#
Click the link below, and fill out the form with your contact info. Put "SPRING SPRINT" in the subject line. We'll get back to you ASAP to get you signed up:
https://www.emailmeform.com/builder/form/705723
Look forward to hearing from you, and here's to getting you in top shape for Spring!
– Forest and the FVT Team