Tomorrow is the big day – I am shaving my head in support of Childhood Cancer Research.
It's been a minute since I've rocked the bald look – 15 years or so …
… here's the the best pic I could find … I'm not totally bald, but close! … from the 2002 UCD Football program: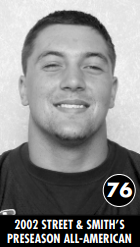 My goal is to raise $1000 for the cause, and we are just over $100 away.
So, I we have decided to extend this offer:
Donate any amount to our Childhood Cancer Research charity effort and try a boot camp workout FREE!
Click the link, enter your contact info, make your donation, and we'll reach out ASAP to schedule your workout:
https://forestvance.wufoo.com/forms/z1tzzce13aomfq/
Valid at both of our Land Park / Pocket – area locations.
Look forward to hearing from you!
– Forest and the FVT Team
PS – If you'd like to simply donate to support the cause, you can do so at the link below: