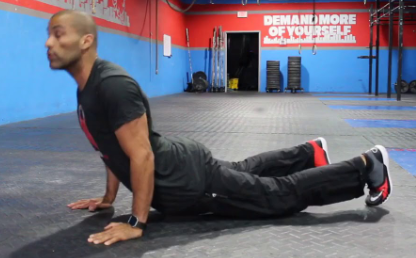 Have you ever seen great martial artists in action?
They posesss amazing functional strength!
These athletes do things with their bodies that 99% of the population cannot.
The good news is, that same 99% CAN get many of the same benefits and results – if they change up their exercise routines.
See, with traditional weight training, you often gain strength, but end up losing flexibility, mobility, and overall athleticism.
That's why we use many of these special same training methods that great martial artists and fighters use in our every day programming at FVT.
Because we know that our clients want this same functional strength that will help them perform and live better in sport, and every day life.
You can get a taste of these special training methods FREE at our upcoming event:
"Combat Conditioning" – Themed Group Workout @ FVT
Our very own coach Donald has trained in martial arts for over 20 years, and has obtained a third degree black belt in the Kajukenbo Self Defense System.
The strength and conditioning protocols used in this training system are unorthodox, but highly effective.
And he is going to give us a little taste of the secret sauce at a special themed boot camp workout on Thursday, February 27th at 6pm!
This workout will be held at our 7485 Rush River Drive location.
These bodyweight-based training methods will have you highly challenged, but energized and renewed at the same time. Get ready to learn how to increase strength, flexibility, conditioning, and total-body fitness.
The best part? Current clients can also bring a friend or family member for free! Just please make sure to register ahead of time so that we can save them a spot (attendance limited to 15). Reserve a spot for your friend or family member at this special workout by entering their contact information here: https://forestvance.wufoo.com/forms/z7mqd5c0v54y1t/
Look forward to seeing you there!
-The FVT Team