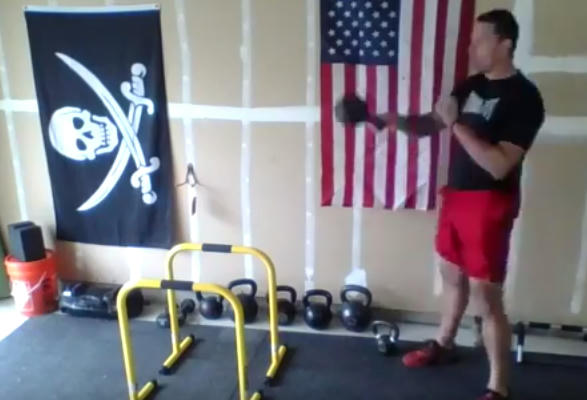 I have been coaching men and women online for almost 10 years.
But a couple of weeks ago when we had to shut our training studio locations, I was worried.
I was worried that folks who had been training at a physical location, in person, might have a hard time transitioning to the distance coaching format.
But when the social distancing mandate was put in place about a week and a half ago, we had no choice 🙂
I still VERY much look forward to getting back into the gyms and working with everyone in person…
…but for now, based on feedback and client engagement and a few other markers, overall, I think it's gone quite well.
We have live workouts going – in times when we used to have regularly scheduled workouts – that folks can sign up for and attend, just like a regular in-person class. You can see us, we can see you, we coach and give feedback and joke around, just like usual 🙂
We send out the recordings of the workouts afterwards to anyone who can't make it live.
We also send out a written version of the workouts with coaching/demo videos, for folks who prefer to do them on their own.
We have an awesome, encouraging, supportive community that helps and keeps each other on track in our online private group.
And we are checking in individually with each client multiple times per week – which is the KEY in holding it all together, and is what makes this different than online streaming workouts or training plans you'd find elsewhere.
So if you'd like to join us:
We are looking for a few more people to try our new, 100% VIRTUAL 14 Day At-Home Fitness Challenge! ????????????
Here's what you get:
— A simple, easy-to-follow nutrition plan, AND the accountability you need to stick to it
— Daily live, follow-along workouts with FVT owner Forest Vance and his team that can be done at home, in a small space, with zero / minimal equipment
— Daily accountability to help you keep on your workout plan and stay on track
— An awesome community who will help encourage you and push you towards your goals
If your gym is closed, and you're looking for more than just random "at home" workouts posted online, this is for you.
We're out of the gym for now due to restrictions, but we're doing this to keep our clients on track, keep our business afloat, and help our local community, all at the same time.
If you are interested, the next step would be to send us a message to learn more about your goals and to see if it would be a fit.
Click here now for more info: https://bit.ly/14dayvirtualchallenge
We look forward to hearing from you!
– Forest Vance and the FVT Team