Sheryl has made some tremendous progress towards her fitness goals in 2020!
She has been super consistent with the online program we started up in March when the pandemic hit and we had to close our physical locations.
Check out the kind review she recently left us: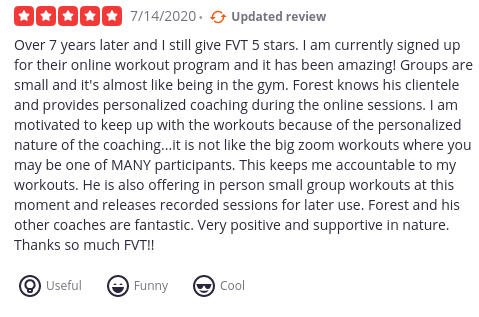 "Over 7 years later and I still give FVT 5 stars. I am currently signed up for their online workout program and it has been amazing! Groups are small and it's almost like being in the gym. Forest knows his clientele and provides personalized coaching during the online sessions. I am motivated to keep up with the workouts because of the personalized nature of the coaching…it is not like the big zoom workouts where you may be one of MANY participants. This keeps me accountable to my workouts. He is also offering in person small group workouts at this moment and releases recorded sessions for later use. Forest and his other coaches are fantastic. Very positive and supportive in nature. Thanks so much FVT!!"
Thanks for the kind words Sheryl! Keep up the great work, you rock!
-Forest and the FVT Team
PS – If you too are tired of being in lockdown and are ready to start working out again, contact us today => https://www.forestvancetraining.com/contact