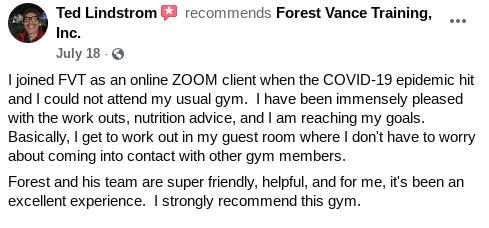 Meet Ted! 🙂
Like so many others, when the pandemic hit, Ted could not attend his usual gym, but still wanted to keep his fitness program going.
For him, our at-home workouts have been an excellent fit. In his words:
"I joined FVT as an online ZOOM client when the COVID-19 epidemic hit and I could not attend my usual gym. I have been immensely pleased with the workouts, nutrition advice, and I am reaching my goals. Basically, I get to workout in my guest room where I don't have to worry about coming into contact with other gym members.
Forest and his team are super friendly, helpful, and for me, it's been an excellent experience. I strongly recommend this gym."
Ted, thanks for the kind words! We appreciate your hard work, consistency, and positive attitude!
If you want to be like Ted, click here and put the words "JUMP START" in the subject line to learn more about our 14-day test drive => https://www.forestvancetraining.com/contact
We are in this together, and we are here to continue to help you in your fitness journey in 2021 and beyond! –
-Forest and the FVT Team