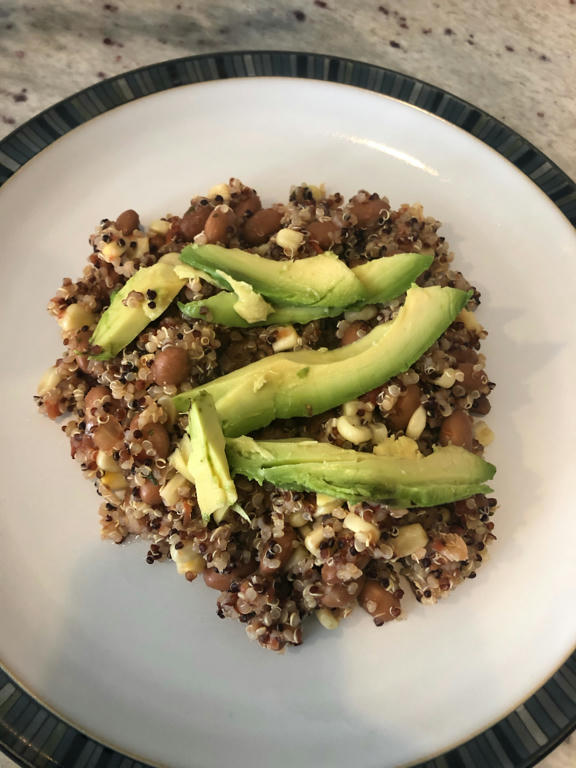 BRO MEAL #5 – High-Protein Vegan Bowl
Okay, due to popular request, we're going to do a vegan bro meal today!
To give credit where it's due, I got this one from a vegan bodybuilder YouTuber named Brian Turner, check out the full video here -> https://youtu.be/5dooOnuFyd8
Remember our BRO MEAL requirements:
– Meal must contain simple whole sources of protein, good carbs, and fat
– Portion sizes must be easy to measure
– Meal must contain simple-to-prep, single macro nutrient foods
BRO MEAL #5 – High-Protein Vegan Bowl
INGREDIENTS:
– 1 cup pinto beans
– 1 cup corn
– 1 avocado
– 1 cup quinoa (dry)
– salsa
Pinto beans can be from a can, or cooked yourself. Same goes for the corn. Cook the quinoa on the stove, in your rice cooker, or however else you want. Mix everything together, and add any amount of salsa you like. Top with avocado.
Nutrition breakdown per serving (recipe makes 3):
495 calories
19g protein
80g carbohydrate
14g fat
SIDE NOTE – from a macronutrient standpoint, though this one does have a decent amount of protein, it also has a lot of carbs. Just think about and account for this and understand how it fits into your overall meal plan.
#
If you need more help getting your nutrition on track, it's something we focus on with our personal training clients at FVT. More info and try our program at the link in our bio
-> http://bit.ly/14dayjump2021
Train hard, talk soon –
-Forest and the FVT Team
ForestVanceTraining.com