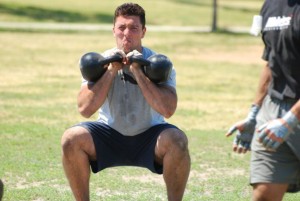 Not long ago, I had quite a different view on KB training. I thought I could just grab a kettlebell and start swinging it around after reading a few articles and watching a couple of YouTube videos.
Boy, was I wrong 🙂
Let's face it, kettlebells are an awesome training tool … but if you don't know what you're doing, you at BEST won't get the benefits from training with them that you should … and at worst, you'll badly injure yourself.
I knew I needed some quality instruction to learn how to use kettlebells properly. I started with books and DVD's from Pavel Tsatsouline (the man responsible for bringing the current kettlebell craze to America and the master of modern HardStyle kettlebell training). I spent thousands on personal training sessions from a local kettlebell instructor. I've even travelled across the country and paid thousands more (and untold blood, sweat, and tears) for what is now multiple RKC certifications.
And NOW … welll, I just love kettlebells. I've learned how to use them properly and am currently enjoying all the training benefits that they provide. And I want to help as many people as possible learn how to use them safely and correctly to reach their ultimate fitness goals.
SO, I've decided to put on a "kettlebell basics" workshop at the FVT studio on Saturday, February 1st, 2014. Click the link below to learn all about it – and to reserve your spot at a special discounted "early bird" rate:
=> February 1st KB Workshop at FVT
Thanks, train hard, and talk soon –
Forest Vance, MS, RKC
ForestVanceTraining.com