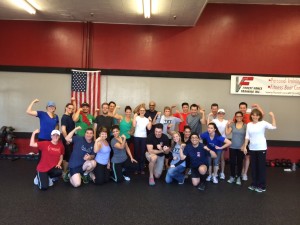 We've got just over a week to go in the FVT 30 Day Rapid Fat Loss Challenge! Folks are seeing some AMAZING changes, can't wait to see how it turns out.
The last couple of Rapid Fat Loss Challenges, we've held a free Bring-A-Buddy boot camp at the end to celebrate a job well done. So we've decided to continue the tradition …
We're going to hold a FREE Bring-A-Buddy boot camp on Saturday March 22nd at 10am.
Rapid Fat Loss Challengers have priority for this one – so we'll open up registration to friends, family, and co-workers of current challengers ONLY for the next 48 hours (through the end of the day Wednesday, March 12th). THEN, we'll open sign ups for all current and past clients, members of the community, and anyone else interested in training at our studio.
It's a great opportunity to bring a friend, family member, co-worker, etc. in to check out the program in a easy no-obligation way.
– IMPORTANT! –
If you'd like to attend the free Bring-A-Buddy boot camp on March 22nd, you need to reserve a spot ahead of time. We will have sign up sheets at the studio starting this afternoon (the 11th of March).
Space is limited – so if you'd like a spot, make sure to get signed up quick.
You can also email me if need be to schedule with the name of the person(s) you're planning on bringing with you and I will get you signed up.
That's it for now! Thanks, have a great day, and talk soon –
Forest