Well, just got back from a GREAT time in New York …
Spent a long weekend at the SFL Barbell Lifter cert, training hard and learning SO much from Dr Michael Hartle and the rest of the SFL instructor team.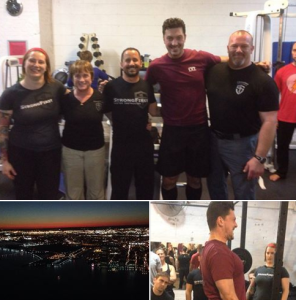 I also got to do the tourist thing and check out the city a bit while I was there … all in all, an AWESOME time!!
Now lots to do as I get things organized for the week ahead, but wanted to shoot you a message with a couple of quick reminders:
1 – We have a 'Bells, Beers and Buddies' boot camp coming up at the FVT studio THIS Thursday, Nov 12th at 6 pm
Simply sign up in our online system (if you are a current client) … or message us with your name and email address (if you will be attending as a guest) … bring a beer to enjoy after the workout … and you're all set!
Again – do NOT have your guest create a profile / sign up in the Mindbody system/ etc – just message us with their name and email address instead – thanks!
That being said … if you want to attend, we are capping attendance at 30 for this workout, so be sure to reserve your spot ASAP!
2 – We are putting the finishing touches on the registration page for the next FVT Ultimate Challenge workout!
It should be active within the next day it two, I'll keep ya posted …
This is going to be an AWESOME event that will test many aspects of your fitness … we will also raise funds for the Sacramento SPCA in the process, and have a great time!
Stay tuned!
That's it for now – have a great Monday, and talk soon –
– Forest Vance
Owner, FVT Boot Camp and Personal Training