HAPPY NEW YEAR from our family to yours!
I just finished up leading the first workout of 2019 here at FVT Boot Camp and Personal Training: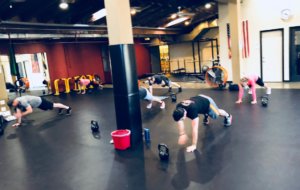 What a great way to start off strong!
If you weren't here, I want to invite you to join us for our next one.
Because if you want to lose bodyfat, get stronger, and improve your overall fitness this year – you have to start by DOING something about it! 🙂
There are three ways to get started:
CURRENT CLIENTS (Sacramento studios) – go into the online scheduling system, and book out your workouts for the next two weeks. Make the commitment now, and make it happen.
PROSPECTIVE NEW CLIENTS (Sacramento studios) – visit our website, learn more about what we do, and sign up to try our program at the link below:
https://wordpress-551394-2308741.cloudwaysapps.com
FVT WORLDWIDE – are out of the Sacramento, CA area, or just prefer to work out at home? Join our 42 Day Kettlebell Shred Challenge – we still have a few spots left, and officially start tomorrow!
You can do this ANYWHERE in the world – all you need is a kettlebell or two and an internet connection.
Details and submit your application at the link below:
Look forward to working together and helping you reach your fitness goals in 2019!
– Forest Vance
Owner, FVT Boot Camp and Personal Training