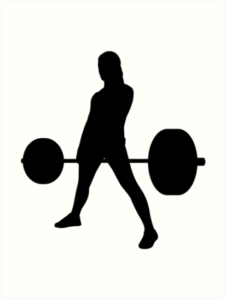 "Jessica" had spent years as a self-described cardio bunny.
Then she saw a YouTube video about how an actor got ripped for a movie role, she decided that she wanted to turn "professional".
Until then, she had done barre, yoga, pilates – and had even tried lifting weights a bit – but truth be told, her knowledge was a combination of Google searches, and stuff she had heard "was good" from her cardio bunny friends.
So Jessica started working with a trainer, and the first thing he added into her routine was deadlifts.
She'd never tried them before, and was skeptical.
But she was AMAZED at the results she got.
They helped her gain strength and lean muscle.
They totally changed her shape, giving her a smaller waist and rounder glutes.
They also improved her posture, and made her feel like a baddass!
Do you want to get results like Jessica?
Join our Next Level Strength group, starting January 30th.
We'll be teaching you how to deadlift safely and effectively.
And be sure to sign up ASAP to save $100 off the tuition (discount ends tomorrow):
http://nanacast.com/vp/10006458/
Look forward to working together!
– Forest and the FVT Team