Getting the right nutrition after training can shorten recovery time and help to build lean muscle.
But the right combo of macronutrients is essential. A 2:1 ratio of carbs to protein has been shown in research to be highly effective (study linked below).
(The old "myth" was to avoid fat post-workout, as it slowed nutrient absorbtion … I haven't seen any conclusive research that this is actually true, so for now, I'm adding peanut butter to my after training meal!)
My current favorite post-workout meal is Chocolate, Peanut Butter and Banana oatmeal.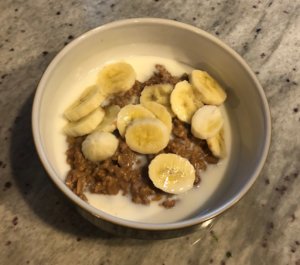 All you need is:
– 1/2 cup cooked oatmeal
– 1 scoop Previnex Nourify PLUS Vegan Protein – Chocolate
– 1 medium banana
– 1/2 tbsp Peanut Butter
– 1/4 cup 2% milk (or non-dairy sub like coconut milk)
First, cook the oatmeal.
(I like to put the oatmeal in BEFORE the water boils for this recipe, to make it extra creamy)
Once it's done, turn the heat off, and stir in the oatmeal and peanut butter.
Slice the banana on top, then add the milk.
According to my food log, this gets me:
– 440 calories
– 67 g carbs
– 28g protein
– 13g fat
If you give it a try, let me know how you like it!
Keep training hard, make it a great week –
– Forest Vance
ForestVance.com
PS – Use my special code "FitnessMonster" at checkout, and you'll get 15% off: Previnex Nourify PLUS Vegan Protein
PPS – Here's the link to the research article referenced above: https://www.ncbi.nlm.nih.gov/pmc/articles/PMC4831776/