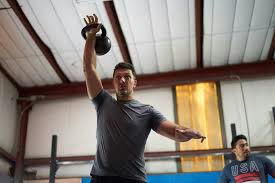 The last eight weeks have been a challenge, in a lot of ways.
For many of us, both our physical and mental health has taken a hit.
But things are starting to open back up in most parts of the world, and we're getting messages from men and women everywhere that they are excited to get back to training towards some fitness goals.
— You want to re-spark your motivation
— You want to get and stay fit, lean and agile
— You want to "get better with age"
— You want to do all the things I want to do with out being out of breath or movements
…and that's why we're doing the 14-day Metabolic Reset Challenge.
We're kicking your a@@ into gear ????
This is a 14-day "kick-start"… focused on nutrition, with the full done-for-you meal plan and lifestyle guide you need to succeed… but also with the workouts where you will burn a MASSIVE amount of calories, to really take your efforts to the next level.
Here's a sample workout:
–
14 day Metabolic Reset "1036 Calorie" KB/BW Workout
(calorie estimates are for average-sized man)
1 – Do a 15 minute dynamic warm up – joint mobility, self myofascial release, dynamic stretching (90 calories burned)
2 – Do 35 minutes of high-intensity kettlebell/body weight/etc resistance training – something like the workout below (336 kcals burned):
*Warm up – Do five Turkish Get Ups on each side. Start easy – with no weight at all or a light weight – and work up to a heavier weight with each rep. Switch sides after each rep.
*Perform the first exercise in each pairing. Immediately move to the next exercise (or exercises) and complete the prescribed number of reps. Rest :30 and repeat each sequence a total of three times.
1a: 8 reverse lunges
1b: pull ups – one rep short of failure
2a: 6 kettlebell presses
2b: 20 body weight squats (explosive tempo)
3a: 25 kettlebell swings (your choice)
3b: 15 push ups
3 – Run 5k – 3.2 miles – at a medium (6 mph) pace (504 calories burned)
If you are not into running, you could also do about 35 minutes of medium-to-high intensity biking, swimming, rowing, etc.
4 – Finish with 15 minutes of simple yoga poses (106 calories burned)
–
Now not every single workout is this massive. Nor does it have to be to get results. And we give you modifications and adjustments, so that you can do the workout no matter your current fitness level, injuries, etc.
But the big idea is, get ready! Let's do this! Because we are ready to start working towards those fitness goals, together!! Get started on the 14-day Metabolic Reset Challenge here: https://bit.ly/fvtnutritionchallenge
-Forest Vance
ForestVanceTraining.com