Think back for a moment: Were you in great shape once upon a time? Are you at your physical peak now – or do you need a kick-start to get back in top shape?
Enter the FVT 30 Rapid Fat Loss Challenge.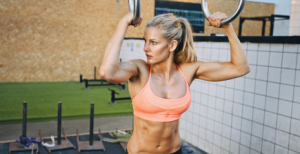 Summer's coming to an end and you're about to get into a routine again. What you need is 30 days of intense, consistent workouts, 30 days of perfect eating and 30 days of total fitness focus.
30 days is the perfect amount of time to make a change and build a habit – and for you it's gonna be 30 days of rapid (and permanent) fat loss.
Our 30 Day Rapid Fat Loss Program consists of the following:
— Admission to our 30 Day Rapid Fat Loss Challenge Kick-Off Boot Camp
— The FVT 30 Day Rapid Fat Loss Meal Plan and Workout Guide
— Access to a special private Facebook group where you'll be able to interact with other folks here who are participating in the challenge, share things like healthy recipes, get your questions answered and more
— Admission to a special "half time" boot camp workout
— Admission to the Challenge Wrap-Up Party Event where we'll get ANOTHER celebratory boot camp workout, and you'll have the chance to bring a friend along to workout with you
— Eligibility for CASH prizes – first, second, and third prize individual winners will get $300, $200, and $100 respectively
And more!
Now, just a couple of things to consider:
1 – We are going to have to cut off registration at 30 people total. This is about all we can handle with our current space, staff, etc … we almost always get around 30 folks to register for these … so if you want a spot, make sure to sign up asap!
2 – We will form teams during the challenge … this way, you can have others that you are going through the challenge with, that you can lean on for encouragement and support, etc … we are hoping to have at least one NEW person that is NOT currently a member at FVT on each team. So tell your family, tell your friends, tell your co-workers, and let's make this a great, fun event and reach / help as many people as possible to get more fit in the Sacramento area!
That's it for today. Let's make it a great week, and talk soon!
– Forest Vance
Owner, Head Trainer, FVT Boot Camp and Personal Training