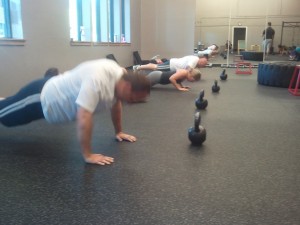 The FVT Back-to-School Rapid Fat Loss Challenge is coming VERY soon … and to get you physically and mentally ready for what's to come, I've put together a complete (and free) 30 Day Rapid Fat Loss Blueprint for you!
I've outlined a complete diet AND workout plan to help you lose as much fat as humanly possible over the next 30 days. Hope you enjoy –
Your 30 Day Rapid Fat Loss Blueprint
Mindset
Getting your mind right is the first and most important step of this process. I wrote all about it on the blog last week – check it out here if you missed it:
=== >> Forest's Politically Incorrect Fat Loss Story
You'll learn about the embarrassing event that spurred me to take action on my weight loss goal … and the big lesson I learned from the experience that you can to apply to YOUR situation. Don't miss this first and most important part of the plan.
Meal Planning
Here's the sad truth – and what NOT to do if you want to lose fat:
You can be working out five or six days a week – but if your diet isn't dialed in, you just won't see the progress you're after.
I posted a sample of my own personal daily diet here on the site not long ago … and I it's a great starting point as a model for your own meal planning purposes:
=== >> Forest's Daily Diet
Workout
Now don't get me wrong – a well-thought out and expert-designed workout plan is also key in your fat loss efforts. And when it comes to leaning and toning, losing inches, and changing your body composition – this could well be the most important factor.
Here's a great workout for you to start with – it hits all your major muscle groups, can be completed in about 30 minutes, and best of all, requires ZERO added equipment – so you can do it anywhere!
=== >> Body Weight – Only Total Body Workout
In summary, rapid fat loss isn't complex – it's just not easy 🙂 . The mindset, diet, and workout tips we've covered in this article should be MORE than enough for you to lose fat at a rapid pace.
BUT – if you feel like you could use the social support element, if you want to work out with like-minded folks that share the same goals, and you want MY personal help on your journey … then you should take a look at our upcoming FVT Back to School Rapid Fat Loss Challenge!! Keep an eye out for details and registration opening very soon …
Thanks for reading, and talk soon –
Forest Vance
Owner, Head Trainer, Forest Vance Training, Inc.